Cheek Fillers treatment includes revival and increase of the cheek utilizing dermal fillers that can enhance and invigorate the appearance of a patient right away. The lift from Cheek Fillers improvises the contour of the face as well as it enjoys an additional benefit of subtly lifting the face. In case you're searching for gentle and natural-looking outcomes for a lift to your face, Cheek Fillers are a good consideration.
Cheek Fillers likewise have the extra advantage of supplanting volume loss in cheeks related to aging. Cheek is the place where a little filler can go far in improving a patient's look – mellowed laugh lines, lifted cheeks and reduced eye circles are some of the advantages of Cheek Fillers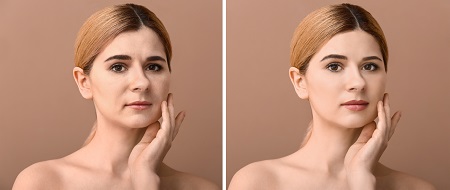 Before the Procedure:

A fortnight before the procedure, you'll need to abstain from taking any blood-thinning drugs, like aspirin.
The Procedure:
During the procedure, you'll be seated in a sterilized environment. Your doctor might apply an effective anesthetic to the injection site, or there might be a numbing agent previously blended into the actual filler. The injection process is basic and will just require 20 minutes or so.
After the injection, you'll be able to see some of the outcomes right away. It will require a little while for the filler to settle in its position.
Recovery:
Avoid sleeping on your cheeks. Try to sleep facing up, flat on your back for the first few days after the injection.
You may likewise need to stay away from strenuous activity until the filler has taken its shape, 48 hours after the injection.
Until the risk of infection has passed, avoid touching your face, and keep your face clean and dry.

Services
We Offer
Call Us for Free Consultation