Scalp Micropigmentation or Hair Follicle tattoo is a non-surgical procedure that's quick and permanent. It gives dense-looking hair with a hairline on a bald head.
The Scalp Micropigmentation strategy can likewise be utilized to hide the scars from hair transplantation or some other type of scars, it is additionally used to make thinning hair look thicker or to get a new hairline.
During the procedure, a natural pigment is applied to the epidermal layer of the scalp, successfully replicating the appearance of natural hair follicles. Experts aim to camouflage the surface area of the scalp where hair loss has occurred and create a new hairline for the client.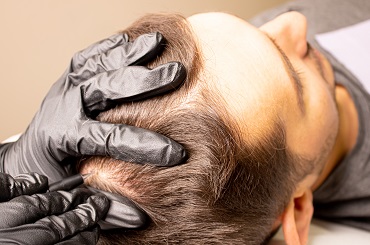 Who is Scalp Micropigmentation for?

​
The methodology is incredible for people who have experienced any type of hair loss. This incorporates individuals with:
Alopecia Areata

Thinning Hair

Male and female pattern baldness

Scars on their scalp

Total baldness (no hair on the sides & back)
Advantages of Scalp Micropigmentation Over Other Hair Loss Treatments:

​
Extremely durable.

Immediate results.

Medication-free.

Gives a frame to your face.

A definitive solution for any type of alopecia.

Gives dense-looking hair for individuals with thinning hair

Conceal scars from hair transplantation or any other scar

No aftercare required, reasonable and maintenance-free

To give greater density to the existing and relocated hair, it can be done after hair transplantation

Gives a full head of hair short/trimmed/buzzcut/crewcut international hairstyle look for individuals with any degree of baldness.
After the final treatment, you have to take the following precautions:
No swimming

Avoid steam & sauna for 28 days

Stay away from heavy exercise for five days

Services
We Offer
Call Us for Free Consultation