Aging is natural. Everyone prefers healthy skin, but as time passes, fine lines and a fading radiance become noticeable.
Our skin is the first organ of the body to show signs of Aging. Our skin becomes drab, dry, and saggy as we get older. Fine lines and wrinkles are two more symptoms that we are becoming older.
Both internal and external factors contribute to skin Aging. These can be characterized into three gatherings: organic, natural, and mechanical.: biological, environmental, and mechanical.

Biological Aging is a natural process that is largely determined by our DNA. Our biological clock has an impact on our skin, and as we age, our skin's ability to regenerate slows. Hormones are responsible for many of these changes, which cannot be reversed.

Extrinsic factors such as environmental Aging can be controlled. Factors such as the sun's damaging rays, pollution, severe weather, and stress wreak havoc on our skin, causing it to age prematurely. Sun damage is one of the leading causes of skin Aging among all external factors.

Squinting, frowning, smiling, and other repetitive behaviors generate grooves in the skin that become permanent over time, resulting in mechanical Aging.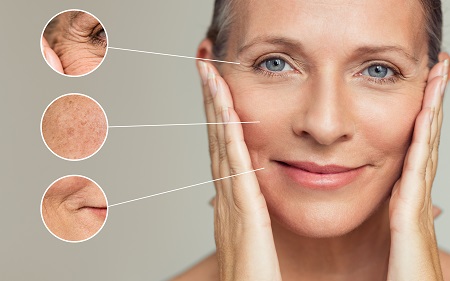 Early and advanced indications of Aging can be separated. While early indications of Aging may be addressed with a range of products and services, advanced symptoms of Aging need specialized and personalized treatment and support, as well as dermatological expertise.
There are a number of various Anti-Aging Treatments each with its own set of specific benefits like Fillers and Botox, Vampire facials, Fractional lasers, Skin Tightening, and face volumizers.
Skin Tightening is a non-surgical procedure that firms, refreshes, and rejuvenates the skin. It reduces wrinkles and slack skin while tightening the loose skin. To elevate and tighten the skin, radio frequency is utilized on the face in various locations, including the jawline, cheek, and chin, areas below and above the ears, and sagging brow lines. Some of the benefits of Skin Tightening Treatments are that it reduces fine lines, gives a natural lift to the skin and it has no downtime which means you can return to your daily activities after the procedure.


Services
We Offer
Call Us for Free Consultation