Tattoo Removal is a procedure done to eliminate an undesirable tattoo. Normal strategies utilized for Tattoo Removal incorporate laser medical procedure, surgical removal and dermabrasion.
Tattoo ink is set underneath the top layer of the skin. That makes Tattoo Removal more complicated and costly than the tattoo application.

In case you're keen on Tattoo Removal , consult a skin specialist (dermatologist) about the options. Don't attempt Tattoo Removal by yourself. DIY Tattoo Removal creams and other home remedies aren't probably going to be successful and can cause skin irritation or other reactions.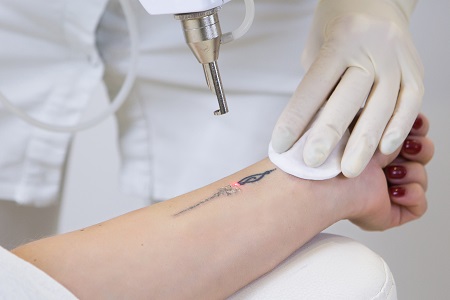 When Tattoo inks of different colors are utilized on your skin there is an uneven color density. This essentially implies that each color penetration into the skin is to a different depth. In this way, if you have a black or blue Tattoo, these have a lower infiltration into the skin. Thus they will fade effortlessly and come off easier. Green and yellow Tattoo inks penetrate the most and are very difficult to get off.
Lasers eliminate Tattoos by separating the pigment colors with a high intensity light beam. Black Tattoo shade absorbs all laser frequencies, making it the simplest shading to treat. Other colors can only be treated by selected lasers dependent on the pigment color.

You should initially schedule a consultation with a trained professional who can assess your Tattoo and advise you on the process. The number of treatment sessions you will need will rely upon the age, size, and colors of your Tattoo. The shade of your skin as well as how profound the Tattoo color goes, will likewise affect the removal method.


Services
We Offer
Call Us for Free Consultation