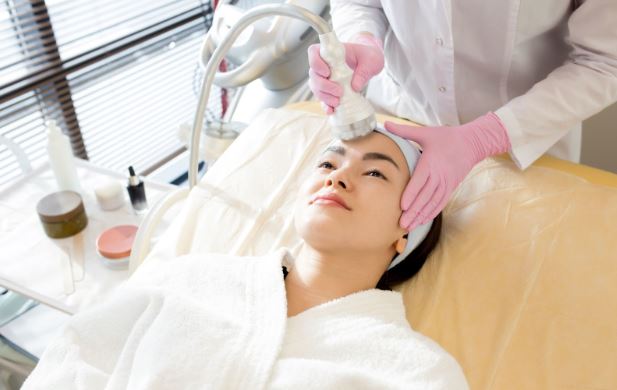 With the advent of summer, many people are worried about getting rid of uneven pigmentation and tan gifted by the scorching heat of the sun. If you are a victim of such circumstances, which is obvious, probably you may wonder whether there is a quick way to eliminate that unwanted pigmentation and tan.
However, have you ever heard about tan removal through laser? If not, you may be surprised to know that laser treatment is a great way to rescue you from your pitiable situation.
Can laser help you remove tan?
Laser treatment to remove tan uses a mild laser beam that helps to strengthen skin cells. Tan removal through laser removes damaged skin cells. Also, it promotes new cell formation. The promotion of the regenerative capacity of the skin cells triggers the healing response of your skin alongside your immune system.
The laser beam works on the targeted tanned area of your skin. Besides, the beam can penetrate as deep as three inches into your skin. As a result, it triggers the regenerative process of your skin tissue and promotes a healthy flow of blood.
In addition, it triggers the production of enzymes and collagen as well. In short, the tan removal treatment involves the elimination of damaged cells and creating new cells at the same time to replace them. Because of that, you can notice a visible reduction of dark spots, different signs of sunburn, and tan.
Apart from that, the laser treatment helps reduces scars to a great extent and gives your skin a spot-free, clear, and even skin tone. As you know, facial skin is more sensitive. Therefore, it requires much deep cleaning.
However, it leads to a common misconception that extreme tan removal through laser might not be an effective solution for facial skin. In reality, the laser used on facial skin is quite mild and would never harm your skin.
The laser treatment for tan removal is equally effective both on your face and other parts of your body. Moreover, the results are quicker than you have ever imagined. And, this is why more and more people are opting for laser treatment to remove unwanted tan in no time.
How does laser treatment work?
In general, laser treatment is carried away by using the following steps.
Before subjecting the targeted area to laser, it is covered with a carbon peel. The laser removes the peel by breaking it into tiny pieces. The carbon particles attract the laser beam and help it penetrate deep into your skin. This is the area where the regenerative agents reside.
To protect your eyes, a nice pair of goggles is a must.
The laser beams are exposed to your skin's surface gently and slowly. It could be the affected area on your face or specific parts of your body undergoing the treatment.
Depending on the extent of laser tan removal treatment, it can take several sessions with a gap of a few weeks. This is the time needed to recover your skin from the previous session while preparing for the next session.
How do you feel after a laser treatment for tan removal?
The first thing that you would experience right after the laser treatment is redness, specifically in the area that undergoes the treatment. However, it would subside within a few hours.
Besides, you may experience sensations such as burning or stinging. Again, it would subside within a day or two. Also, the area that underwent the treatment might swell a bit or cause itching. These symptoms are common and would fade away in due time.
How to take care of your skin after the treatment
You should follow a care routine prescribed by your dermatologist before and after the laser treatment. That way, it helps you minimize the discomfort and side effects, if any, after each session. Take a look at the important aftercare measures that dermatologists recommend you to follow.
Reduce extended exposure to the sun
Even if you step out in the sun, do not forget to use sunscreen that comes with higher SPF
Do not use any kind of deodorant, makeup, or chemical substances on your skin
Try to avoid waxing on the treated area
Never use lotion or cream until your dermatologist allows you to do so
Because swimming pools contain chlorine, stay out of them for good
What's next?
Although laser is effective when it comes to Detan Treatment or melasma treatment, it has some side effects. However, the intensity of those effects varies from one person to another. Also, it depends on the dermatologist and the clinic that you choose.
If you are thinking about detan treatment, Glow Booster, Contact NOA Skin & Hair Clinic Indiranagar, Bengaluru & Kadapa to serve you in the most effective way.