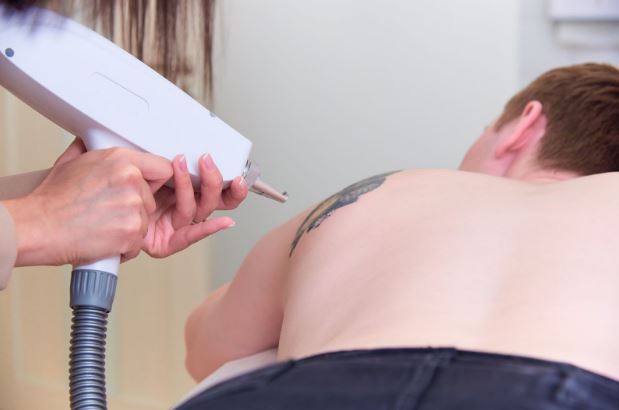 Are you regretting getting a tattoo, maybe months or years ago? Was that a moment of spontaneity and joy you thought of getting a butterfly on your lower back? Yikes!
If you are planning to get rid of a tattoo, then you are not alone! According to a study published on the website of Healthline, 75 percent of 600 people regret getting a tattoo!
If you are planning to get rid of an ugly tattoo, Noa Hair can offer you painless tattoo removal with zero scarring and at a pocket-friendly cost.
Why choose us?
For starters, we use the best technique that is safe, easy and leaves your skin as good as new. Additionally, here are some awesome benefits that Noa Hair offers.
Non-evasive
Laser technology is a revolution in the treatment of tattoo removal, and Noa Hair uses laser technology that is non-evasive. Our laser technology is capable of sending intense energy without damaging or harming your skin and its surface. In simpler terms, with laser technology, we will work on the problem without causing any!
The laser technology that we use has specialized light energy and lenses that help in breaking down the ink particles into very small units. It is a precise and quick process that is effective and harmless.
Painless method
Traditional methods of tattoo removal are painful and are known to cause burning and irritation to the skin. These were slower technologies that were used to leave the skin sore and in pain.
However, Noa Hair uses tattoo removal techniques that are precise and cause pain that is nothing worse than an ant bite!
Breaking down all colors
The old and traditional tattoo removal methods could not break down some specific colors such as blue, green, and fluorescent colors. But our technology can break down and remove all ink colors.
The safest way
Our laser removal technique is specifically designed to attack the ink particles only and leave the healthy cells alone. It is undoubtedly the safest tattoo removal method available today, which ensures no adverse side effects.
The fastest method of tattoo removal
Noa Hair offers tattoo removal solutions that are designed based on your tattoo. We schedule sessions that are based on the detail, size, and color of the tattoo. Generally, a tattoo removal treatment takes less than half an hour, which is better than traditional tattoo removal processes that would take up to hours!
Aftercare
The benefits of our laser tattoo removal don't stop here! We consider aftercare an important part of the procedure. Our skin experts will make sure that you get complete and quick recovery after the tattoo removal treatment.
The aftercare services are carefully created and customized by our experts based on the skin condition. We also offer consultation and suggestions after tattoo removal procedures ensuring your skin healing better and fast.
Finally
At Noa Hair, we firmly believe there is nothing like a permanent tattoo! The only thing that we believe is permanent is your satisfaction.
Contact us for more information.