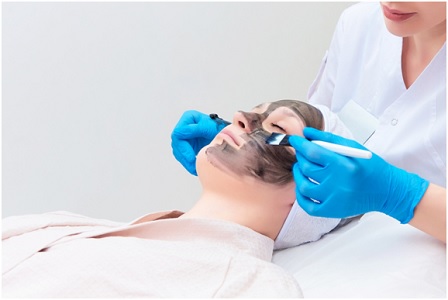 Do you know that you have a flawless, lineless, and spotless complexion beneath your skin's surface? The answer is yes, and skin experts at Noa Hair can help you bring out that perfect complexion!
We are talking about chemical peels, and in this post, we will tell you all about them.
The chemical face peel casts off dull and old surface cells and improves discoloration, acne, fine lines, and much more. Chemical peel treatments work on every skin color and type.
Are you still confused if you should try chemical peel treatment? The skin experts at Noa Hair shared five fantastic chemical peel benefits for you!
Chemical peel for sun damage
We are exposed to harmful sun rays every day, and with time the damage from the Sun's UV rays build up and can lead to premature aging!
Chemical peels can help you with the damage. With chemical peels, you can get rid of the old and damaged cells on your chest, neck, hands, and face.
Chemical peel for hyperpigmentation
If you are struggling with hyperpigmentation, know that you are not alone! Issues like discoloration and hyperpigmentation are common and can be noticed in people around us. Chemical peels can remove the discolored pigment and reveal a healthy skin.
Chemical peel for acne
We at Noa Hair receive a considerable number of acne complaints daily. One of the best types of chemical peels for acne is the facial peel with salicylic acid.
The salicylic chemical peel for acne scars or acne is an effective way to reduce acne and prevent blemishes from appearing in the future. The chemical face peel unclogs pores and removes bacteria that cause acne.
Chemical peel for wrinkles and fine lines
As we mentioned earlier in this post, chemical peels remove the damaged layer of the skin and reveal a youthful new skin layer free of fine lines and wrinkles.
Although chemical peels cannot diminish all wrinkles entirely, it reduces them. For example, based on your skin's volume of wrinkles and health, you can choose the best chemical peel treatment at Noa Hair.
Reasonable chemical peel cost
Compared to superficial fractional-laser treatment, chemical peels are cheap and require fewer visits. In addition to that, it shows results almost instantly and doesn't require months-long use of skin products. It is a one-time investment that can get you results that many expensive skin products cannot guarantee.
Why us?
We, at Noa Hair, determine the best chemical peel after understanding your skin type and concerns. In addition to that, Noa Hair offers the best chemical peel price that fits your budget!
If you notice signs of wrinkles, fine lines, scarring, and pigmentation on your skin, drop by our clinic, and we guarantee the best chemical peel treatment!
We can help you enjoy a firm and radiant complexion in just a week after treatment! Contact us to know more.