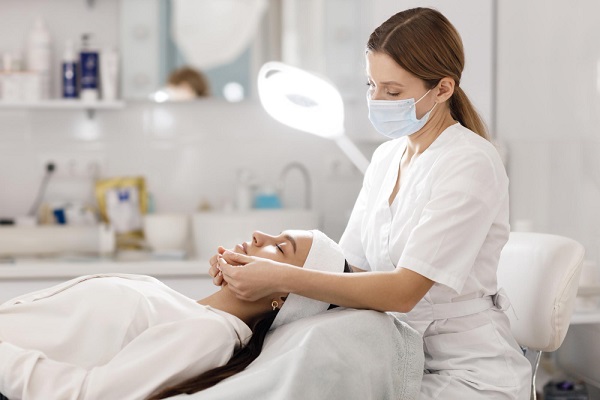 Who doesn't want a chiseled face and jaw-dropping jaw line, with a perfect cheekbone? Everyone wants it. But not everyone has it, that is where science helps us achieve what we want through surgery, peeling, and many more things for the perfect facial aesthetics like no blemishes, no marks, and no dark tones. Everything perfect. Most of them choose facial aesthetics, during various seasons like wedding season, for some parties and many more. But it is always understandable as there will be parties to attend, meet friends and family and look best in every possible way.
As the summer is coming and the wedding season has begun, let's see some facial aesthetics which one can go through to look best! The main important baseline for any skincare regime is healthy skin. A holistic approach to facial aesthetics would be considered all the primary skincare for well-rested, rejuvenated and glowing skin. The treatments mentioned below help to achieve the perfect skin for the season.
1. Hydrate and extract: A gentle and painless vacuum-like suction would work wonders to remove the debris from the pores, it also helps in intense moisturizing and hydrating the skin. The use of fuse and protective infusion would help the skin to get antioxidants and peptides for maximum glow. This treatment would also help in removing uneven skin tone, fine lines and wrinkles, enlarged pores, oils and congestion, brown spots and blemishes, and also help in nice skin texture.
2. HydraFacial: This is an award-winning technology advanced treatment, which helps in achieving glowing skin for the festive season. This is a painless treatment and gives immediate results. And the HydraFacial has very little to no downtime. It has worked around with the following points a patented serum, gentle peel loosening, removing the damaged and dull skin, and also helping in removing dead skin cells.
3. Laser toning: In other words laser toning is also called Q Switched Nd, where the YAG laser treatment is used for overall skin rejuvenation. During this treatment, one might feel a tingling sensation but there won't be any pain as such. It takes around 7 to 10 days after one to observe any significant improvements. Multiple sessions would help in these cases. Whereas laser toning has a reputation to give moderate redness for a few hours. Let's know more about laser toning, YAG laser is the most effective way to remove natural or artificial pigmentation. As our skin absorbs the energy of the laser and breaks that into fine particles. After this is removed from the body naturally. It also helps in promoting collagen and elastin production. It helps in removing fine lines, wrinkles in the skin laxity and sagging pigmented lesions. And tattoo removal of vascular lesions.
4. Carbon laser peel: It is also called a Hollywood laser facial and also called a China doll facial. It is a painless procedure where the effects of this are seen immediately on the skin. The carbon laser peel laser treatment has no downtime. This procedure involves the application of the liquid carbon on the face and then the YAG laser is applied over the skin, which is then absorbed over the skin, the carbon particles get settled in the skin which then acts as an exfoliator to remove the debris in the skin. This also turns and enhances the formation of collagen. These skin benefits are instant glow and radiance of the skin, improved skin texture, even skin tone, tightening of the pore, reduction of acne, scars and associated pigmentation, and reduction of the fine line and wrinkles.
5. Injectable skin boosters: These are long-lasting skincare, which help in keeping the moisturizers updated and intact. This also helps in improving the skin quality the prior numbing cream will also have the application of the treatment which would be also painless and this also would help in boosting the optimal results within 2 weeks and very little downtime. The effects might seem immediate in this treatment. As it enables the multiple superficial injections of hyaluronic acid into the skin, the hyaluronic acid is naturally present in our body and mostly it helps in providing the hydration and moisturization of the skin. It also helps in collagen and elastin formation. This treatment is painless and it helps the skin to hydrate and glow, improves the skin texture, provides firmness, reduces the appearance of scars, reduces the fine lines and pores and it also evens the skin tone.
There are multiple ways like Botox, chemical peeling, derma needling and many more along with the above-mentioned non-painful and easy methods, but a keynote would be to consult a better dermatologist and get the suitable treatment for your skin which suits the skin without leaving any adverse effects.