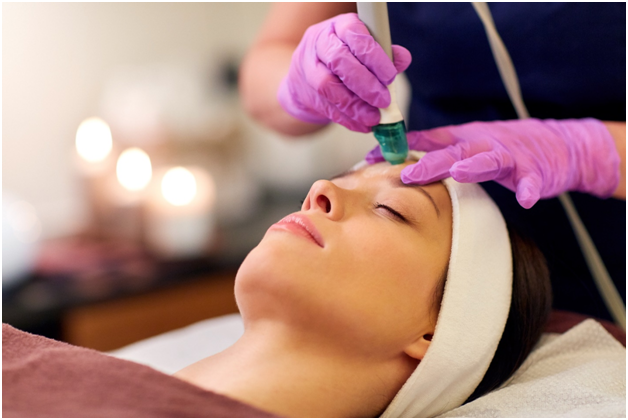 Does your skin appear lifeless, dull, or even older than you would prefer?
Rejuvenate your skin's health and appearance quickly and painlessly.
From dark spots to wrinkles and from scars to enlarged pores, minimize a variety of skin concerns with Microdermabrasion.
With Microdermabrasion treatment, give your skin an instant boost and makeover. New, much better, and healthier skin is stowing away beneath the surface of the old, dead skin, and microdermabrasion is an optimal method to uncover it in a split second, without the risk of side effects or scars.
Make your skin look brighter, feel tighter, and appear more youthful with microdermabrasion.
What is microdermabrasion?
Microdermabrasion is an exfoliation process that tenderly eliminates the external layer of your skin, where the dull, dead skin cells lie.
Tiny crystals are used that break up these cells to uncover the smoother, gentler skin underneath.
The crystals are delicately worked into your skin by a handheld device.
You can eliminate dead skin from your face and neck without harming the new, healthy skin underneath.
Results of the treatment
Every microdermabrasion treatment begins with an intensive assessment of your skin. You may consider microdermabrasion medicines to:
Diminish wrinkles
Brighter complexion
Decrease pore size
Younger looking skin
Wipeout brown spots
Smoother skin texture
Even and smooth skin tone
Minimize skin inflammation scars
Treat spaces of hyperpigmentation
To ensure that your skin is well moisturized, apply a high-quality moisturizer such as Cetaphil immediately after the procedure.
How to care for your skin after treatment
You can return to your standard routine after your treatment.
There's no recovery time or downtime after the treatment as it is minimally invasive.
In some cases, you might be asked to stay indoors for a week as your skin could get damaged due to the UV rays of the sun and result in hyperpigmentation.
Your skin may become a bit red and a little tender after the treatment, which settles without any additional treatment.
Your skin will heal and your results will keep on improving.
Gently dab your skin with a soft wet cloth immediately after the treatment.
Be extra cautious about sun exposure and avoid spending a lot of time outdoors.
Additionally, sunscreen with high SPF is recommended. Apply it even if there is minimal sunlight and rainy weather as microdermabrasion can make you more sensitive to the sun in the days after treatment.
To erase the remnants of your dead skin, dab your skin with a moisturizing toner.
As dead skin cells keep on falling ceaselessly, you may have dry, chipping skin that can be treated with a rich hydrating daily moisturizer.
To ensure your skin is hydrated and well protected from the environment, follow a good skincare regimen.
Drink a lot of water throughout the day to hydrate yourself from within.
Eat fruits and vegetables that are high in water content like cucumbers and watermelons.
If your skin itches or forms bumps, do not touch, scratch, or pluck that area.
Products with strong and harsh chemicals as ingredients like exfoliating scrubs and tanning solutions should be avoided.
Do not indulge in any procedure to remove hair like waxing or using hair removal creams for at least 2 weeks after the treatment.
Visit a dermatologist if you feel pain in any part of the treated area or redness doesn't subside. Chances are that your skin might be infected.
The advantages of microdermabrasion
For all skin types, Microdermabrasion is safe and effective.
The exfoliating crystals are exceptionally fine and will not harm your skin.
There's no risk of scarring or infection, as microdermabrasion requires no incisions or anesthesia.
Treatment is easy and can require an hour or less. After your first microdermabrasion treatment, you can hope to see more splendid, more lively skin.
To assist you with optimizing your results, additional treatment may be required
Who Should Skip Microdermabrasion?
Microdermabrasion isn't appropriate for everybody.
If you have sensitive skin or you're inclined to rosacea, you'll probably need to skip treatment, as the exfoliation can be excessively bothersome.
It's a smart thought to defer treatment until your skin is cleared up of active infection, sunburn, cold sores, or any other inflammation on your face.
If your skin appear lifeless, dull, or even older than you would prefer. You must opt for Microdermabrasion. For further information please contact Noa Hair at 836.743.6003 or visit noahair.in for best skin treatment in Kadapa.