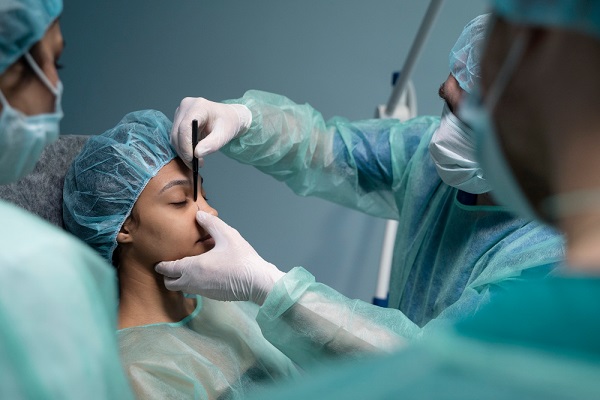 No wonder, the nose can impact your facial appearance regardless of its shape and size. As such, a small change to your nose can either disturb or improve your facial harmony drastically. However, a large nose, pinched, uneven, bumpy, droopy tip, and other kinds of aesthetic problems can now be resolved.
Enter the world of non-surgical rhinoplasty that allows you to make various subtle adjustments without surgery. It is a kind of cosmetic procedure that uses dermal fillers to alter the shape of your nose.
What happens during the procedure?
When you have opted for the best non-surgical Rhinoplasty treatment, an expert injects dermal filler into the targeted area of your nose that you want to reshape. The fillers add structure, help increase volume, straighten mild bumps, and improve projection. That way, your nose gets a makeover.
At NOA Skin & Hair Clinic, our trained experts can perform the task in just 15 minutes or even less. Besides, you can follow up in a couple of weeks for a touch-up if you wish to. In addition, you can get back to your regular activities soon.
Typically, dermal fillers contain an ingredient called hyaluronic acid that adds volume when injected underneath your skin. During Rhinoplasty non-surgical procedure, the healthcare provider applies a local an aesthetic to make the area numb. You may feel a slight pinch or pressure during the procedure.
No doubt, medical procedures carry a certain degree of risks or complications. But if you are in the safe hands of a non-surgical Rhinoplasty doctor, everything remains safe. Sometimes, a patient might experience mild swelling or bruises. But they will go away within one to two days.
When it comes to non-surgical Rhinoplasty permanent results, it can last anywhere between 4 months and 3 years depending on certain factors. These might include the ingredients used for the purpose, the quality of work done, and how your body reacts to the treatment.
Is nonsurgical Rhinoplasty better than surgical Rhinoplasty?
Compared to surgical Rhinoplasty, nonsurgical Rhinoplasty comes with limitations. For example, the nose cannot be made smaller with the nonsurgical one. Also, the results might last for a few months. However, dermal fillers can modify certain characteristics and smoothen bumps temporarily.
Nonsurgical Rhinoplasty might be the right solution for you if you wish to –
Improve the tip of your nose
Add volume
Smoothen out bumps or lumps
Straighten a crooked nose
Refine the bridge of your nose
In short, nonsurgical Rhinoplasty treatment helps you make small changes to your nose. Still, if you are looking for long-lasting and dramatic results, it is better to opt for a traditional Rhinoplasty treatment.
What are its advantages?
The most notable advantage of non-surgical Rhinoplasty filler is that you can achieve desired results without the need for plastic surgery. Besides, there are other advantages as well.
The results are immediate
You do not have to experience scarring or incisions
Changes are reversible
The procedure takes a few minutes
Although the treatment does not repair serious issues such as nose shape flaws, it is best for people who want to achieve an attractive look. The body absorbs the fillers in no time.
Are there any side effects?
Following a nonsurgical Rhinoplasty procedure, some people might experience minor adverse effects. These include sensitivity and redness in the area. However, the symptoms continue for a day or two. The following are additional side effects that may happen.
Nausea
Bruising
Swelling
Migration (occurs when the filler migrates to other areas)
Is the procedure safe?
There is no denying that medical procedures carry risks. Because the nose is close to your eyes, it requires extra attention to do any kind of procedure. And, nonsurgical Rhinoplasty is no different.
In addition, the procedure is more complicated and technical than other kinds of dermal filler treatment. Therefore, a licensed professional should perform the task to avoid the following complications.
Tissue necrosis
Vision loss
Vascular complications
Swelling or redness
Blurred vision
Fever
Is nonsurgical Rhinoplasty worth it?
The worthiness depends on the purpose of the treatment. If you are looking for permanent and major structural changes to your nose, nonsurgical Rhinoplasty cannot provide you with effective results. Besides, if you are planning to correct medical issues, non-surgical rhinoplasty is not going to help you. But if you are thinking about making small changes to your appearance yet avoid lengthy surgery, the treatment is for you.
Wrapping up
NOA Skin & Hair Clinic houses skilled medical practitioners with many years of expertise in a variety of cosmetic procedures. Moreover, non-surgical Rhinoplasty cost is reasonable at our clinic. Schedule a consultation with us so that we can help you meet your goals.