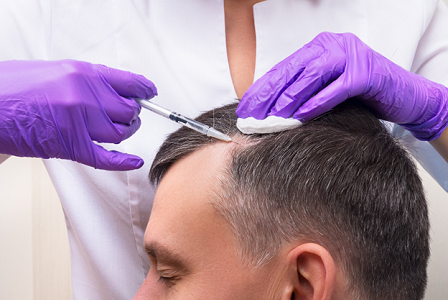 Hair loss can be embarrassing, and it can impact an individual on countless levels. Female and male pattern baldness is hereditary, and to be honest, it can leave you feeling helpless. We all know a few people who wear a wig due to extreme hair loss.
Reason for hair loss
There are a few explanations for hair loss and hair thinning. Hair loss can affect your scalp or whole body, and it can be because of aging or hereditary. Other aspects that can affect the health and growth of your hair include:
Hormone changes
Certain medications
Basic ailments
While there are a variety of choices for improving your appearance following balding, like utilizing wigs or accessories, there are more viable approaches to address the root cause of balding, including PRP treatment.
What is PRP Therapy?
In most cases, options like doctor-prescribed medications and vitamins don't work at all. Platelet-rich plasma is naturally in your blood. This plasma contains 17 distinctive development factors that stimulate the development of healthier and newer cells to supplant old, damaged ones.
In case you're worried about your appearance because of premature hair loss, platelet-rich plasma (PRP) treatment is the option to help you. Platelet-rich plasma treatment can stimulate new hair growth and improve the thickness of your hair. This methodology addresses the root cause of your hair loss and can give long-term results that keep on improving in the long run.
Platelet-rich plasma treatment or (PRP) is acquiring prominence as a high-level technique for treating patterned hair loss, hair thinning, or receding hairline and delivering effective natural hair regrowth results.PRP offers an all-natural and affordable approach to promote new hair development
PRP treatment assists in the following:
Permanent increment in blood supply to the hair follicles
Trigger and keep up the development period of the hair follicle
Increment in the hair shaft size
Decreasing hair loss
PRP works by utilizing your body's platelets. These platelets contain development factors that invigorate the regeneration of tissue.
PRP is at present being utilized in various fields of medication, including dermatology and orthopedics, to help regrow healthier and stronger tissue.
PRP is astounding, it's all-natural, and above all, it works. PRP permits your stem cells and development elements to combine efforts to invert the contracting of hair follicles and send dormant hair back into a development stage.
The outcome is thickening and regrowth of hair.
PRP Hair Treatment Procedure
Blood Sample Collection:
As the initial step of the PRP hair loss treatment procedure, your doctor will take a 20 ml blood sample to put into a centrifuge (a machine that spins rapidly to separate fluids of different densities).
Platelets separation:
Dermatologists utilize the centrifuge method for the platelets separation from the blood. The double spin technique ensures the ideal grouping of platelets that are rich in development factors.
In the centrifuge, the blood will separate into three layers :
Red blood cells
Platelet-rich plasma
Platelet-poor plasma
PRP is extracted and injected:
Specialists extract Platelet Rich Plasma (PRP) from the leftover layers of Platelet Poor Plasma (PPP), and red blood cells in the tube. The platelet rich plasma is drawn up into a needle and reinjected into spaces of the scalp that require increased hair growth. Prior to injecting the PRP into a patient's scalp, trichologists activate the development factors in the plasma utilizing an activating agent.
PRP insertion Into Affected Area With Injections:
In the last step, dermatologists infuse the PRP removed from the blood securely into the affected region on the scalp with the microneedles. Prior to embedding the platelet-rich plasma, your dermatologist will administer local anesthesia into the scalp edge, so you don't feel any pain.