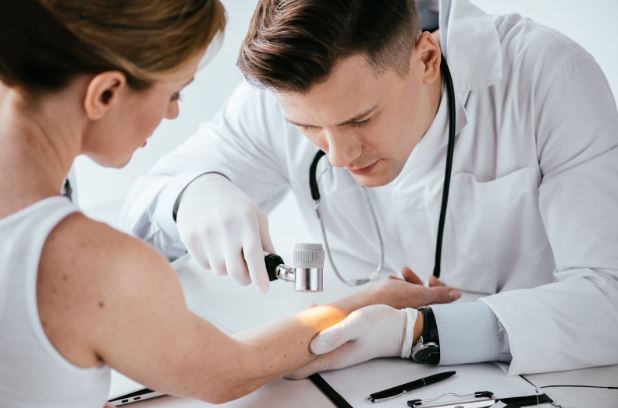 Visiting your dermatologist once a year can help identify skin problems which can be an early indicator of chronic diseases. If you have yourself examined your skin conditions for some time and have so many unanswered questions in your mind regarding your skin, a dermatologist appointment can answer them all.
But do you have a habit of forgetting things to ask your doctor while visiting? If the answer is yes, follow these tips to prepare for your dermatologist appointment.
Share Your Skincare Routine
DO NOT forget to share your current skincare routine with your dermatologist. Make a list of products you have been using or have used on your skin in the past. Let them know about your sleeping habits, the kind of work you do, and whether it includes exposure to the sun or not.
As every skin type responds differently to cosmetic products, there are possibilities that the products you used could have made your skin prone to acne, pimples or sun exposure. If you are aware of these side effects, you'll be able to protect your skin.
As the market is flooded with skincare products, make sure you ask your dermatologist which one suits your skin type and get a skincare plan accordingly.
Bring Forth Your Medical Records
To get maximum advantage out of your visit, share your medication history or self-medication tricks, as it might be a deciding factor in your current treatment. These records can include the patient's psychological issues and the history of the patient's family.
It's best practice to inform your dermatologist if you are taking any medicines or workout supplements to know any potential side effects.
Be Specific About Your Symptoms
While explaining your dermatologic issues try to be specific about the symptoms. For example, a dermatologist examines your skin but cannot feel the pain, so communicate how you perceive it as a problem. Try to have two-way communication.
Mentioning the signs and your perception will help him narrow down the treatment. To ensure you don't forget all these questions, you can write them on paper or note them on your smartphone and take them with you to the dermatologist.
Go With Your Unfiltered Skin
Remember you are not visiting a dermatologist to impress them, so try not to conceal your acne and pimples with makeup. Present your skin as it is normally. Be real. Clean your face and apply moisturizer and sunscreen if required. Remove it when you arrive at the clinic.
Pictures of Progress
Take pictures (without any filters) of your skin at regular intervals to keep track of your skin condition and the frequency of pimple outbursts. Report your conclusions. This should be followed even after visiting the dermatologist to identify the progress.
Takeaway
The skin protects our body, and it needs attention as much as the other organs. As you are visiting a skin expert, keep your google knowledge aside. But do not hesitate to ask questions to clear your doubts. However, to ensure you don't forget all these questions, you can write them on paper or note them on your smartphone and take them to the dermatologist.
Noa hair and skin clinic has a team of dermatologists who can help you get glowing, healthy skin. Contact us at 08367436003 today to schedule an appointment.