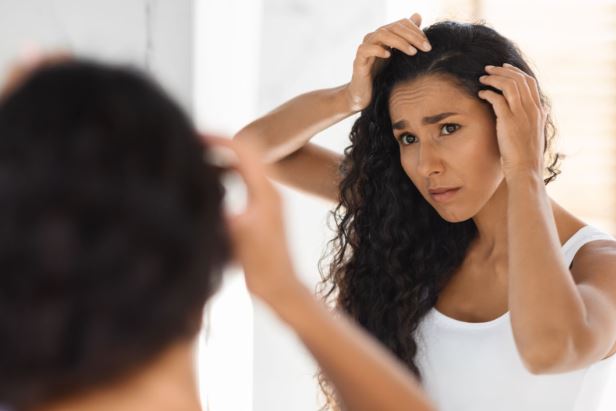 Dandruff is a common scalp condition that leads to the appearance of itchy, white flakes on your scalp. It can be caused by various factors, including seborrheic dermatitis, dry skin, or certain allergic reactions.
Dealing with dandruff can be both difficult and embarrassing at times. Although you can use various products designed to treat dandruff, sometimes the condition can get difficult to handle. In such cases, dandruff treatments can help get the job done.
What Are Dandruff Treatments?
Dandruff treatments are easy ways to treat or control dandruff. Some of the common dandruff treatments include:
Brushing your hair regularly

Brush your hair gently from the scalp to the tip. This helps carry out the dead skin cells and prevents them from becoming dry flakes. Moreover, brushing your hair regularly will distribute the essential hair oils evenly to the scalp and hair strands and make your hair healthy and shiny.

Using an anti-dandruff shampoo

The next best and easy solution to getting rid of the itchy, flaky scalp is using an anti-dandruff shampoo. Most anti-dandruff shampoos include antifungal drugs like Pyrithione Zinc and Selenium Sulfide that help remove the fungus on your scalp and thus treat dandruff.
Benefits of Dandruff Treatment
Dandruff treatments can help treat dandruff and help manage flaking and itching of the scalp. Here's more about how dandruff treatment can help you with this scalp condition:
Controls the development of dandruff:

Do you keep scratching your scalp and often find flakes on your shoulders, eyebrows or beard? These can be the signs of dandruff. Dandruff treatments can help control the development of dandruff and prevent severe scalp infections.

Eliminates itchiness:

Dandruff results from the overgrowth and deposition of yeast on your scalp, which causes itching and flaking. Here, dandruff treatments like using a shampoo containing zinc and selenium can help relieve the itchiness.

Improves moisture and strengthens the roots:

Dandruff treatment can not only help treat dandruff but also give you strong, healthy hair. They improve and lock moisture in your hair to ease symptoms like dry scalp or flaking caused due to dandruff.
Tips for Getting Rid of Dandruff Permanently
Keep your hair clean and get a good hair wash twice or thrice a week. Also, brush or comb your hair regularly to help remove scalp build up.
Limit consumption of sugary foods and refined carbs like white bread, tortillas and white pasta. Switching to healthy food habits will boost your immunity and help prevent fungal infections, which can help treat dandruff.
Keep your stress levels under control. For this, you can try certain stress management techniques like yoga, meditation and breathing exercises.
When to See a Doctor for Dandruff Treatment?
If you're done trying several over-the-counter solutions and still can't get rid of dandruff, it's time to see a doctor. For severe dandruff conditions, you may need to use a prescription-strength shampoo, an antifungal product or steroid cream. Consulting a doctor may also help if your scalp is red or swollen or if you are experiencing hair fall due to dandruff.
Takeaway:
Dandruff is a common problem that can get pretty ruthless sometimes. However, dandruff treatments from the right practitioner and experienced professionals, such as Noa Hair, can help reduce symptoms and provide relief from dandruff. In case the problem continues to persist or worsen, make sure to consult a doctor for professional guidance.
Noa hair and skin clinic have a team of best dermatologists who can provide you with effective anti dandruff treatment. Contact us at 08367436003 today to schedule an appointment.